If you have information concerning these unknown suspects: 1(800)-AA-CRIME
Wanted Suspects Unsolved Crimes Crime of the Week Cold Case Homicides
If your tip led to an arrest - You may have a REWARD. Call 1-800-AA-CRIME between 12 & 1 PM (PST) any Tuesday to check for any pending Rewards.
Like us on Facebook!
Please note a criminal charge is an accusation. The defendant or suspect is assumed innocent unless and until proven guilty.
Tenga en cuenta que un cargo penal es una acusación. Se supone que el acusado o sospechoso es inocente a menos que y hasta que se demuestre su culpabilidad.
Sponsor

BURGLARY SPD NCU-S 22-7020 CS 22-005
January 19, 2022
On January 8, 2022, officers responded to the Rite Aid at 4980 Freeport Boulevard. Video surveillance shows the suspect using a large bar to break the front glass door. Another suspect, whose face was covered with a large blanket, opens the front doors and tries to get inside but is unable to fully get in due to interior roll-up security doors.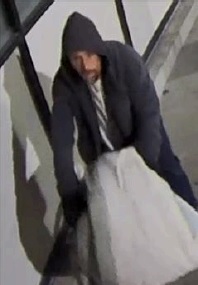 ---
HIT AND RUN MAIN & GREENBACK CHP-E CS 22-004
January 18, 2022
During a New Years Eve celebration on January 1, 2022 at approximately 12:20 AM, East Sacramento CHP officers responded to a call of a vehicle which struck a pedestrian on Main Avenue, north of Greenback Lane in Orangevale. A female pedestrian was struck in the roadway and the driver of the involved vehicle failed to stop and fled from the scene. As a result, the pedestrian suffered serious injuries.
We are seeking help from the public to help us identify the involved driver and or vehicle. The driver is believed to be a male with no other physical description. The involved vehicle is believed to be a gray 2013-2018 Ford C Max, similar to the type of vehicle pictured here.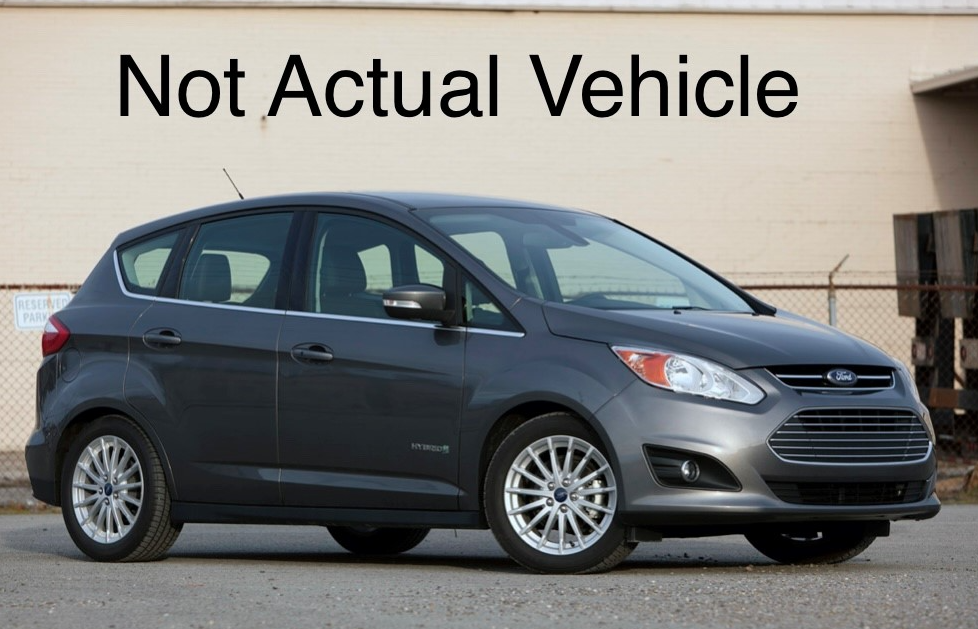 ---
HOMICIDE GREENLAWN WAY CS 22-003
January 17, 2022
At approximately 5:29 a.m. on Monday January 17, 2022, a resident on the 4100 block of Greenlawn Way in North Highlands reported that someone came onto the property and shot a family member.
Deputies responded to the location and found an adult male victim with multiple gunshot wounds. Metro Fire arrived moments later and transported the adult male victim to a local area hospital where he was pronounced deceased hours later.
Preliminary investigative details point to an adult male who was burglarizing vehicles in the immediate area. The suspect went into the rear yard of a residence and entered a detached structure where he most likely obtained a firearm from a gun safe stored there. When the homeowner confronted the suspect in the detached structure, he was shot multiple times in the upper body. The suspect fled on foot and is still at large.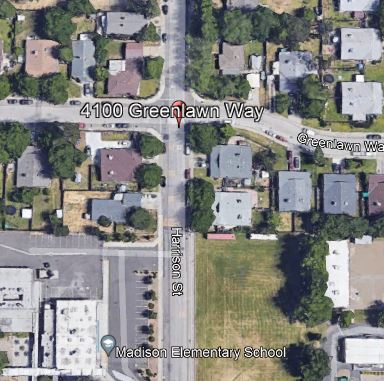 ---
STOCKTON BLVD HOMICIDE CS 22-002
January 14, 2022
At approximately 6:29 p.m. on Thursday, January 13, 2022, the Sheriff's Communications Center received a call from a subject inside a business on the 6900 block of Stockton Boulevard in Sacramento County. The caller stated they heard gunshots and they believed someone had been shot inside a vehicle. The caller then stated that the vehicle containing the victim was driven away from the scene.
Upon arrival, deputies found evidence that a shooting had occurred but no victims or victim vehicle was on scene.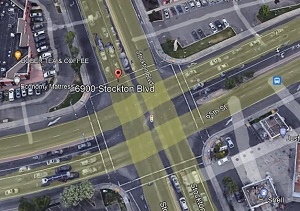 ---
HOME INVASION ROBBERY SPD NCU-N 21-369696 CS 22-001
January 06, 2022
On December 25, 2021, Sarah Hunt and three associates committed a home invasion robbery, holding the victims at gunpoint. One suspect has been arrested. Hunt and two others are at large.
Suspect #1 - Male with the gun. Possibly Hispanic, early 40's, 5-11, 220 pounds, medium build, medium complected wearing a black Adidas zip-up jacket, black sweatpants, and a black cap.
Suspect #4 - Female white, 45 years old, 5-9, 340-350 pounds, heavy set, blonde medium length hair wearing a tie dye neck gator, tie dye short sleeve, and a black zip up.
Hunt is 32, 5' 4", 140 pounds, with blond hair and hazel eyes.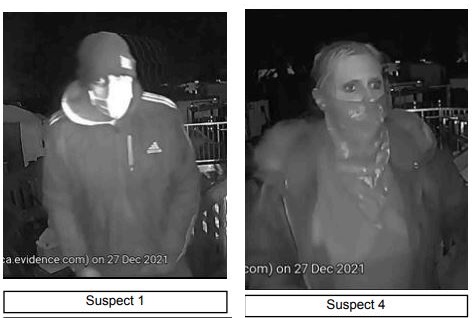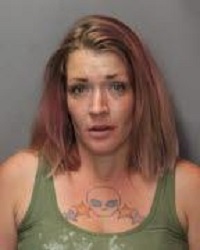 ---
FATAL HIT AND RUN CHP North CS 21-001
January 04, 2022
On December 23, 2020 at approximately 6:40 PM, North Sacramento CHP Area units were dispatched to a call of a traffic collision involving a pedestrian that occurred within the ARCO Gas Station, located at 2200 El Camino Avenue, in Sacramento. Upon arrival on scene, CHP Area units discovered that a 34-year old female from Sacramento had sustained life-threatening injuries as a result of being involved in a collision with an unknown vehicle. The victim was immediately transported to a nearby hospital for her injuries. The vehicle involved fled the scene of the collision prior to CHP units arriving on scene.
Upon further investigation, North Sacramento CHP Area officers determined the vehicle involved to be a maroon over silver, large capacity van, driven by an unknown male (see attached photos).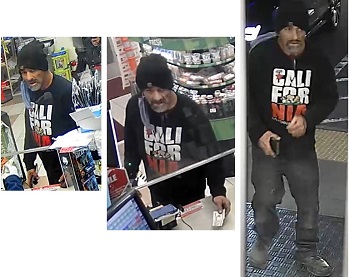 ---
HOMICIDE SUSPECTS SPD 21-342571 CS 21-049
December 28, 2021
ONE SUSPECT HAS BEEN IDENTIFIED AND ARRESTED!
CAN YOU IDENTIFY THESE SUSPECTS?
On Monday, November 29, 2021, at approximately 11:50 AM, shots were fired in front of 724 Lampasas Avenue in Sacramento. Upon arrival, officers located two victims who were shot and subsequently transported to a nearby hospital. One victim did not survive.
Suspect #1: Black male adult, 30- 35, medium build, with a mustache and dark skin. He wore all black clothing with a cartoon glove with a man inside, 'WORLD" below the globe in green.
Suspect #2: Male adult, possibly half Hispanic, half Black, heavy set. He wore a black jacket with green shirt.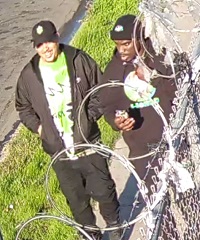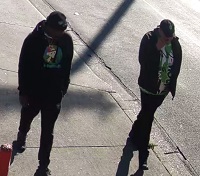 ---
ATTEMPTED ROBBERY & VANDALISM SPD NCU 4-5 21-287326 CS 21-034
December 21, 2021
THIS SUSPECT IS STILL IN THE FLORIN ROAD AREA AND HAS MADE THREATS OF VIOLENCE.
On Wednesday, October 6, 2021, the suspect arrived at Cigarettes and Tobacco store on Florin Road. After a brief exchange of words, the suspect pulled a hatchet and used it to break glass partitions between himself and the victim, and then broke the counter glass. The suspect then fled on his bicycle. A few minutes later, the suspect returned and used the hatchet to break the glass door to the business.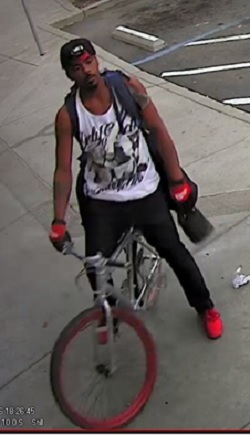 ---
HOMICIDE SPD 21-323017 CS 21-046
November 16, 2021
On November 9, 2011 Jessica Beasley was located deceased in the area of Northgate Blvd, south of Garden Hwy. Her death has been ruled a homicide.
The Sacramento Police Department is looking for any information in this case.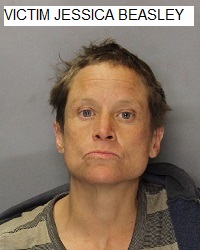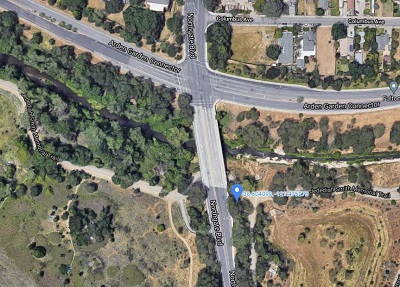 ---
ROBBERY SERIES NCU-3 SPD 21-316299 CS 21-045
November 15, 2021
On November 3, 2021, during the early morning hours, a male adult burglarized 5 businesses along K St and 10th St. The suspect uses a tool to punch out the front door lock and takes the cash registers.
The suspect is of unknown race, approx. 5'8", medium build, wearing a dark blue hooded jacket, black distressed style jeans, white and black shoes basketball shoes. He has a blue and black backpack and was riding a dark colored bmx bike. Video from various burglaries show the suspect shuffling his feet and he appeared to have limited mobility in his legs.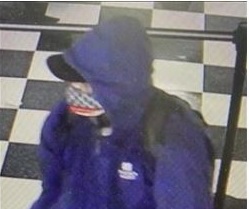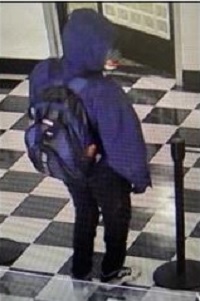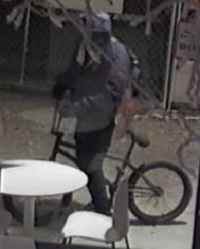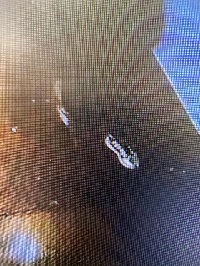 ---
| | | |
| --- | --- | --- |
| Page 1 of 8 | 72 Records | Prev | Next |